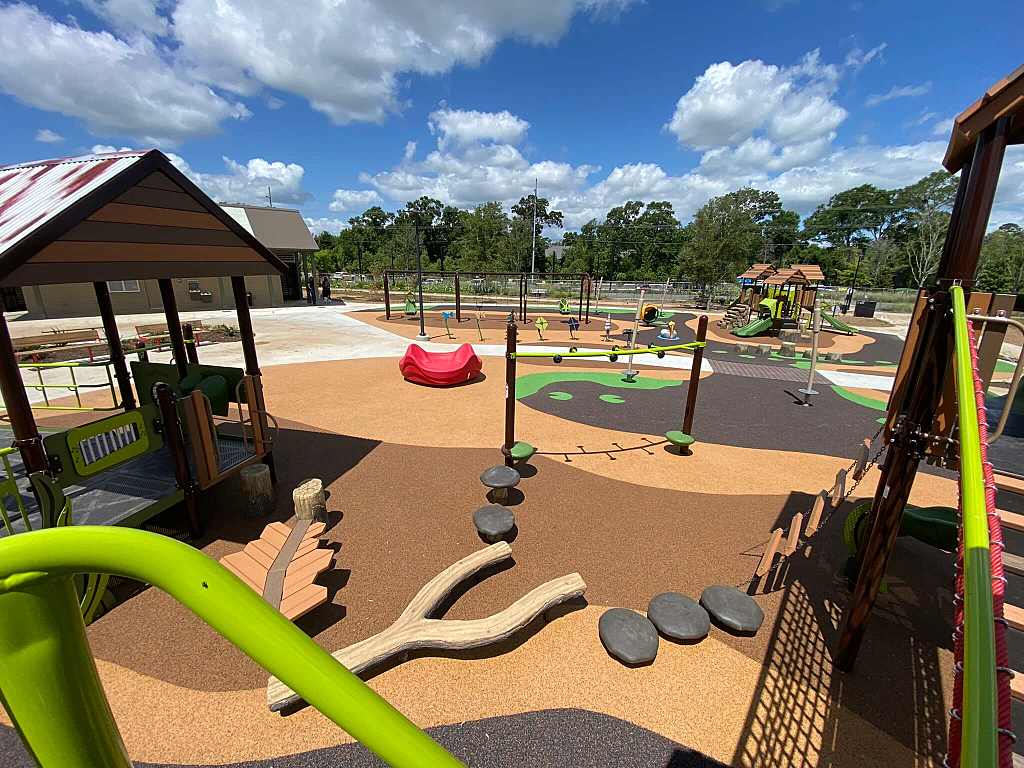 The Moncus Park playground is a South Louisiana "Acadian Swamp" inspired playground. The themed playground showcases a playful rustic look with a "swamp shack" environment which incorporates the feel throughout all the elements designed for the playground area.
The playground elements include two areas of play, one for 5–12-year-olds and another for 2–5-year-olds with swings and spinners and themed elements throughout. The main inclusive play structure was designed to be accommodating for all ages with disabilities from ground level play to inside the structure itself. The 2–5-year-old has the same swamp shack feel with the theming throughout and placed on top of higher ground in the swamp. Other Louisiana plays pieces include naturalistic crawl through logs and log steppers and a custom-made alligator in the swamp. We also included musical play pieces for the auditory sensory aspect of the playground.
The play surface was designed to mimic a Louisiana swamp with elevation changes from higher ground for the playground structure to the lower ground for swamp water with algae and lily pads growing on the edges. A sidewalk and bridge separate the two play zones, but still ties the two play areas together as the swamp water idealistically runs under the themed low water bridge.
DDG's team heavily collaborated with Veterans' groups and Moncus Park members for input and refinement on design ideas to make sure our team created a space they could be proud of that properly commemorated our local heroes. DDG coordinated with community vendors and artisans to assist in the production of custom cast 8' tall monuments, custom cast 60' long benches, and all the custom metal work within the memorial. Our team collaborated with historians to ensure the language on the monuments was historically accurate and consistent across all designed pieces. The scope of this portion of Moncus Park consisted of a master plan, schematic design, and construction documents.